The Mind's Eye - Oliver Sacks
Oliver Sacks is quite a man. He is a Professor of Neurology and Psychiatry at Columbia University; he is a Fellow of the Royal College of Physicians; he is the first and currently only Columbia University Artist, an honour bestowed on him in recognition of his contribution to the arts. The Mind's Eye is his enthralling book about sensory perception and how the brain finds astounding ways to circumnavigate the loss of abilities such as facial recognition , depth perception, the ability to recognise everyday objects or the loss of the ability to read, while retaining the ability to write. It is a thoroughly fascinating read in which he uses examples from his own patient case histories, his own longstanding sensory challenges as well as an intimately documented account of his encounter with eye cancer. It's an easy read with so much to teach us about how some of the people who make up the kaleidoscope of beings that is humanity are navigating their way through life.
The Pleasures and Sorrows of Work - Alain de Botton
This is the best book I have read all year and de Botton is my new favourite author!
I don't ask for much. I only want to be entertained and educated. de Botton does this for me in a way no author has done for me in a while. The book hasn't received the best reviews out there but I loved it. His style is amusing and yet highly illuminating as he whimsically takes us on a journey in which he documents how tuna ends up on your plate, how biscuits end up in your cupboard, accountants and the environment they work in, cargo ships, a man who has spent years painting a tree in a field and he even goes hiking along a trail of electricity pylons. Electricity pylons, that's right. Thanks to de Botton I have found a deep respect for and admiration of electricity pylons for heavens sake!
"The real insights here, however, relate to the way in which work (as de Botton sees it) is both a validation of the true purpose of our existence – and the most assertive way to 'rage against the dying of the light' – in other words, to keep at bay the daunting realisation of what a brief flicker of existence we have. It's a book that is both affirmative and (in its eccentric fashion) quietly persuasive". -Barry Forshaw,
"
Clever, provocative and fresh as a daisy"
-
Literary Review on The Architecture of Happiness
Full of splendid ideas, often happily and beautifully expressed . . . an engaging and intelligent book - Independent on The Architecture of Happiness
Read it!
Brother West: Living and Loving Out Loud, A Memoir - Cornel West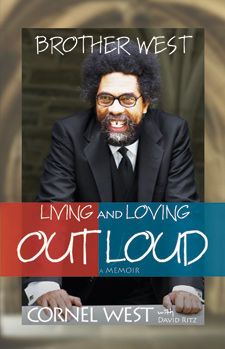 Cornel West is the University Professor at Princeton University where he did his PhD. He graduated Magna Cum Laude at Harvard. He marched in the civil rights demonstrations and in high school he led protests in demand for the introduction of black studies. In the third grade, he punched his teacher after she slapped him for refusing to salute the American flag. His uncle had been lynched and wrapped in an American flag during the "Jim Crow" days of segregation in America.
This man is such a force of nature. He is an intellectual whose action is driven by love and who lives his life with a passion that is highly endearing if not infectious.
"I have tried to be a man of letters in love with ideas in order to be a wiser and more loving person, hoping to leave the world just a little better than I found it."
He has had a lifelong romance with music, calling himself

"a bluesman moving through a blues-soaked America, a blues-soaked world, a planet where catastrophe and celebration- joy and pain sit side by side". He has a spoken word and hip hop album,

"Never Forget: A Journey of Revelations" which features Jill Scott, Talib Kweli, Black Thought, Prince, Rhymefest and Andre 3000 among others. If you are interested in American politics and social issues you may want to listen to this CD, which is available on the Cornel West official website. You can also listen to some interviews with Dr. West on http://bigthink.com/cornelwest where he discusses everything from why he beat up his teacher, jazz, the blues, funk and soul, his views on Barack Obama, all the way to Kafka's "Metamorphosis" and how that relates to the paradigms in which we find ourselves trapped today. Cornel West's memoir shows us how this extraordinary man has led a life full of colour and rage and mistakes and remarkable accomplishment. He is quite something.
"Never forget that justice is what love looks like in public." - Cornel West